Penetrative, hydrophobic, synthetic-oil based coating for decorative purposes and to protect wood against UV radiation and water infiltration. Penetrates deep into the wood structure, highlights the wood's pattern and provides it with the desired hue. Gives wood a matt surface that can be easily renewed without having to remove the original coat.
Suitable as a finish to be applied after impregnating exterior wood against wood-destroying fungi and insects (use class 3).
Non-crack, non-peel
UV protection
Protects against water penetration
Indoor and outdoor use
Penetrates deep into the wood structure
Allows wood to breathe
Easy to apply - spreadable
Building certificate STO-AO-224-808 / 2017
TOTAL WOOD PROTECTION SYSTEM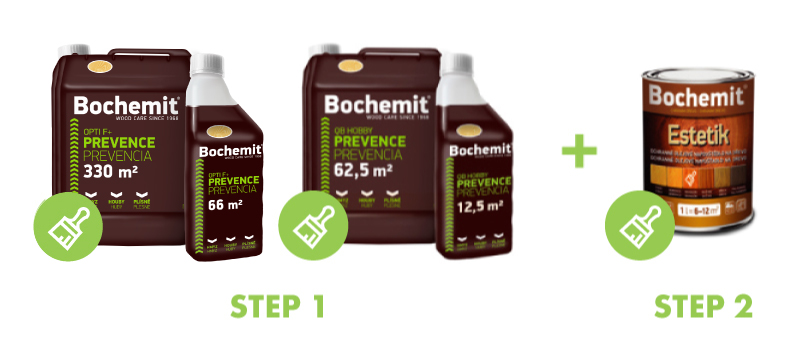 STEP 1
To PROTECT WOOD from infestation from wood-decaying fungi or insects, treat wood with any of the biocide impregnating agents from the Bochemit range (transparent products) before applying Bochemit Estetik.
Long-term preservation against mould, wood-decaying fungi and insects.
STEP 2
Do not apply Bochemit Estetik coating until the fungicide impregnating agent has dried completely. Drying time is dependent on air temperature and humidity and usually takes from 4 to 24 hours. Following these 2 steps provides wood with perfect protection.
Decorative coatings and finishes for indoor and outdoor timber.